Corfu Town Hotel
Sunset Hotel Corfu
Sunset Hotel is strategically located in the center of Corfu island. It combines the ease of your journey from the harbor or the airport with convenient access to the city. Overlooking the sea and the countryside is the ideal choice!
Book your Room Now!
Enjoy your stay
Spacious, warm and clean rooms with balcony, bathroom with shower, TV, air conditioning, safe box tasteful decoration and view. All room types are available to meet your every need.
Open all year
Sunset Hotel Corfu
In Sunset Hotel Corfu our effort to ensure luxury and comfort for our guests is continuous. The services and activities you can enjoy in Sunset Hotel Corfu all year round are especially designed to fulfil all your needs.
Relax & get a Cocktail
Sunset Hotel Corfu
Relax in our Pool bar and enjoy a refreshing drink or cocktail. After sunset, the hotel Pool bar is transformed into a romantic setting with candles and background music, creating the perfect atmosphere, where you can begin or end your evening in Corfu.
Bed & Breakfast
Enjoy a great breakfast at our poolside restaurant and start your wonderlful day in Corfu!
Free Wifi
Take advantage of the free wifi in all our hotel rooms for your work or your entertainment.
24 Hours Reception
Our people are here for you 24 hours a day. Do not hesitate to ask for our help and we will try to satisfy all your wishes.
Private Parking
The private parking of our hotel will make it easier for you to travel. Take advantage of our facilities for your car or bike.
Rooms
Bar & Pool Bar
Private Parking
Free WiFi
Swimming Pool
Beautiful Garden
24 Hour Reception Service
Wide Selection Breakfast Buffet
Rooms
SPACIOUS &
COMFORTABLE ROOMS
Cleanliness is always our top priority. Each room has a balcony, central air conditioning, TV, a bathroom or a shower, safe box, a telephone and free WiFi. Please let us know your specific wishes and we will do our best to satisfy them!
Discover More
Bar & Pool Bar
BAR & POOL BAR
Take advantage of our hotel facilities for your entertainment, meetings or business appointments. Whether you are looking for the romantic moment at the pool bar or the beautiful, warm and friendly environment of our main bar, we are here to satisfy your wishes!
Private Parking
PRIVATE PARKING
Take advantage of the private parking of our Hotel in Corfu in order to park your car or motorbike in aample private parking spaceright in front of our hotel.
Free WiFi
FREE WIFI
Our hotel in Corfu offers free Wi-Fi internet access to all its guests. The aim of our technicians is to meet all modern requirements of our visitors, in order to have constant Internet connection, for their entertainment or work.
Swimming Pool
SWIMMING POOL
The swimming pool of our Sunset Hotel is an oasis of coolness in the city of Corfu. During the winter months, it is the ideal view from the restaurant, while in the summer you combine your stay in our hotel with sunbathing and a Cocktail from the Pool Bar or a cool salad from our menu. Our little friends can play on the children's pool!
Pool
Children pool
Pool bar
Snack bar by the pool
Beautiful Garden
BEAUTIFUL GARDEN
We, the people of Sunset Hotel in Corfu, know very well all these years of our operation that whether you are coming in Corfu for vacations or a business trip, you want to be close to nature! This is why, every day, we take care of the surrounding gardens area of our hotel, with love and taste!
24 Hour Reception Service
24 HOUR RECEPTION SERVICE
On Sunset Hotel Corfu you will find specialized staff ready to serve you with a smile 24 hours a day. Do not hesitate to contact us if you have further requirements and we will try to meet your expectations with the consistency and professionalism that we always have!
Wide Selection Breakfast Buffet
WIDE SELECTION BREAKFAST BUFFET
At Sunset Hotel Corfu you will find every morning a wide selection breakfast buffet in order to start your day with a rich and balanced way. Every day quality products are used by our experienced staff with our main concern your healthy and quality diet.
Tastefully designed & decorated rooms catering all your needs
CORFU TOWN HOTEL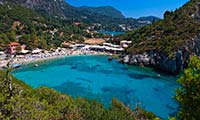 Durrell, inspired by the enchanting landscapes filled with crystal clear waters, has devoted one of his books to Corfu.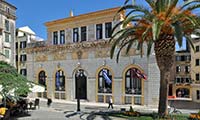 Unique and special, full of history and sightseeing. Everything starts from Liston area.